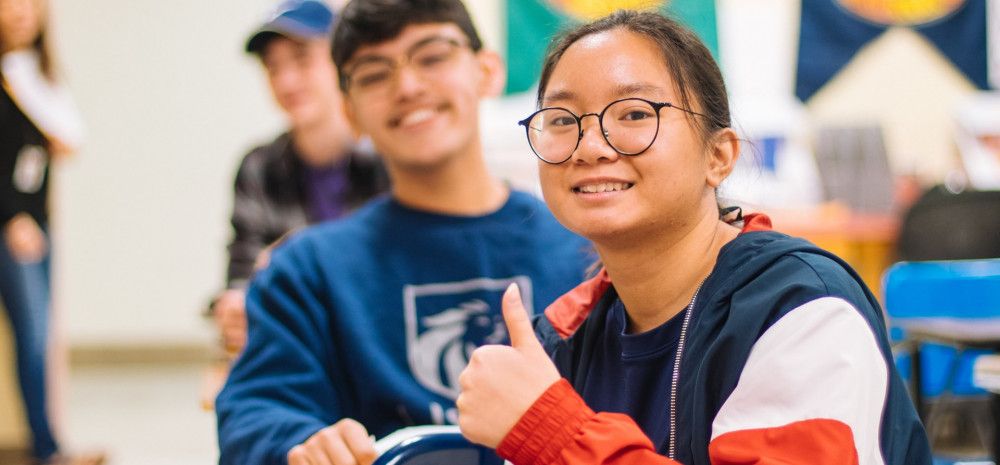 Greater Dandenong City Council has partnered with VicHealth to create communities where young people grow up active, socially connected and healthy.
The first stage of the initiative is to work with children and young people to hear their voices, ideas and experiences and inspire more creative local solutions - and we need your help to do this!
We're seeking young people aged 12-18 years to participate in a series of interactive workshops to share their experiences and aspirations for a healthy and active future.
There are two sessions to choose from. Young people may register to attend one or both workshops.
Workshop 1 - Unpacking Key Issues
Thursday 24 February, 4.30pm - 6.30pm
Springvale Library, Community Room 6
Through group discussion, explore key priorities that shape young people's health and wellbeing including: healthy eating, physical activity, and mental health.
Workshop 2 - Connecting the Dots
Thursday 24 March, 4.30pm - 6.30pm
Springvale Library, Community Room 6
Delve deeper into the findings from Workshop 1, exploring the underlying influences and connections between issues that young people have identified as barriers to healthy and active lifestyles.
Bookings
Registration is essential.
Select the 'Register Now' button below or contact Youth and Family Services on 9793 2155 to register.
Please indicate which workshop/s you wish to attend.
Participants will require the following:
Contact details (name, email address, contact number) to register for the event.
Smartphone/smart device to scan QR Code (if you do not have access to a smartphone, staff will check you in).
Proof of vaccination (COVID-19 digital certificate) or a medical exemption from the Australian Immunisation Register is required upon entry for people aged 18 years and over. Find out how you can get your COVID-19 digital certificate.
Face masks must be carried and worn if social distancing cannot be maintained.
All COVIDSafe guidelines will be fully met to ensure public safety for this event.
To find out more information
For more information, contact Youth and Family Services:
Phone: 9793 2155
Email: youthservices@cgd.vic.gov.au
Facebook: cgdyouthservices
Instagram: @greaterdandenongyouthservices
Springvale Library, Community Room 6
What is this project about?
Council has partnered with VicHealth on a three-year project to create communities where children and young people grow up active, socially connected, and healthy. A series of interactive workshops will be delivered to capture the voices, ideas, and experiences of children and young people, to inspire more creative local solutions.
What will I be asked to do during the workshop?
The workshop will run as follows:
Introduction to the project's three health priorities: healthy eating, physical activity and mental health. We will explore what people in Greater Dandenong are currently doing to stay healthy and active.
Small group activities, answering questions through group discussion and mind mapping.
Larger group discussion to summarise everyone's ideas and conclude the session.
You will participate in a small group setting (20 participants in total, breaking into smaller groups of 4-5 people) and asked to discuss the following questions:
What kind of activities are you currently engaging in to stay happy and healthy?
What do you think are some of the main barriers stopping young people from participating in healthy activities?
What are some other healthy activities that you would like to engage in if there were no barriers?
What will the information be collected and used for?
The information collected will remain completely anonymous and confidential - no young person will be identifiable. Information will be used to understand what are the key issues impacting the health and wellbeing of young people in Greater Dandenong, and how programs can be designed to engage and increase young people's healthy eating, physical activity, and mental wellbeing.
All participants will be provided with updates about the project after the workshops, and receive information on any resulting programs that are delivered because of the workshops.
Privacy Statement / Collection Notice
Participation in this workshop is voluntary. The information you may provide is being collected for the purpose of identifying the barriers around why young people are experiencing poor physical and mental health in our municipality, so Council can provide better support services in the future. The information collected may be shared with Vic Health and Monash and Deakin Universities for the same purpose.
Greater Dandenong City Council is strongly committed to protecting every individual's right to privacy and handles all personal information in accordance with the Privacy and Data Protection Act 2014. If you choose to participate in the workshop any information collected will be held by Council for as long as required administratively, it will not be used for any other purpose or provided to any third parties without your written consent. For information about our broader collection, use, and disclosure of personal information, please refer to our privacy policy at www.greaterdandenong.vic.gov.au
If at any time you believe your privacy has been breached please contact Council's Privacy Officer on 8571 5100.
Add to Calendar Disabled